Have you recently received a City of Whitehorse parking, animal or Local Law fine?
If you believe you have a valid reason for Council to withdraw your fine, you can make one request in writing for Council to review your fine. You will need to provide all the relevant details and attach documents to help Council make an informed decision.
To save you time, please read these pages carefully before applying to Council for a fine review.
Fine Review Process Steps
Step 1. Make sure the fine was issued by Whitehorse City Council.
A Whitehorse City Council fine will have the City of Whitehorse or Whitehorse City Council horse head logo printed on it. If the fine does not have the horse head logo, you need to apply for a review by the company that issued the fine.
Your fine may have been issued by a private car park company operating in Whitehorse, or you may have received a fine from a neighbouring Council or other government agency such as the Department of Transport which has towing companies that tow and impound vehicles parked in clearway zones during clearway times.
Step 2. If you have received a parking fine, you can view your parking fine details and any photographs that were taken at the time.
This evidence may help you decide if your fine review application will be successful. If you feel that these photographs will not support your fine appeal, you can pay your fine online
Step 3. For the fine types listed below, carefully consider the list of invalid reasons for a fine review. These will result in Council rejecting your application. You may want to pay the fine rather than appeal it.
Valid reasons to request a fine review are below.
Invalid Reasons to Request a Fine Review
Step 3 continued. Consider the list of valid reasons Council would agree to withdrawing a fine. If your reason is listed, your fine is more likely to be withdrawn.
Valid Reasons for Withdrawing a Fine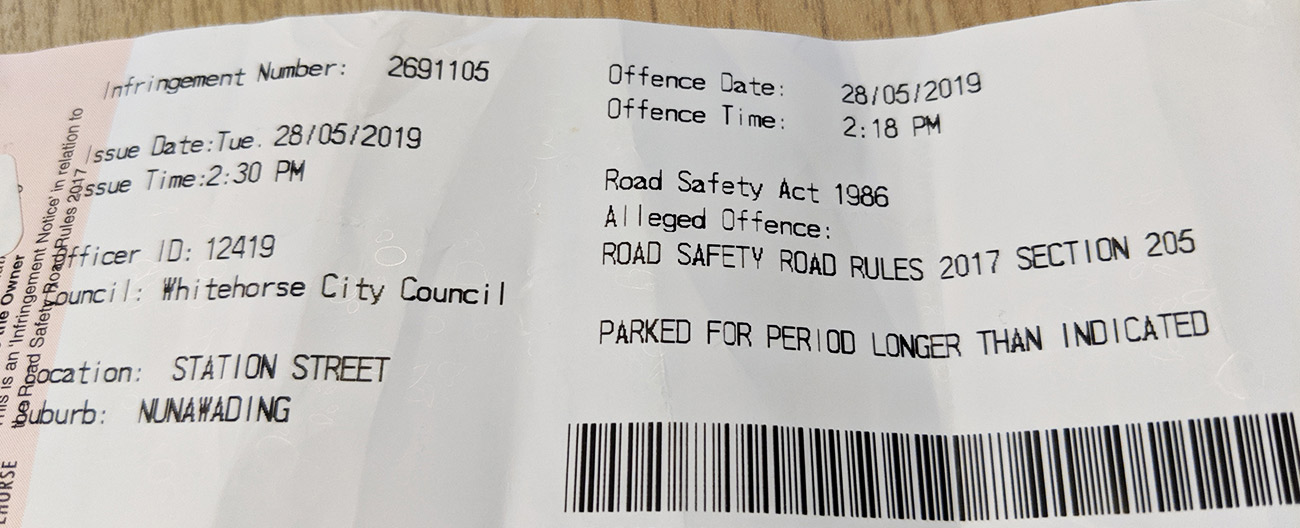 Find out the valid reasons for appealing a fine
Step 4. Once you have considered both the valid and invalid lists, you have the following options:
Options

Links

Pay the Fine

NOTE: You may only pay by bPay up to the original fine payment due date. After that date you will need to pay by another method such as on-line or pay by phone.

Request a Fine Review in writing

NOTE: Council officers cannot review your fine over the phone or in person. Please ensure you supply all the required supporting documentation with your fine review request.

Request a Fine Payment Extension of Time

Request to be Heard at the Magistrate's Court
Step 5. Wait for Council to review your application for a Review, Payment Extension of Time or Magistrate Hearing Request Application.
Your fine will be placed 'on hold' while the review is conducted. This means you do not have to pay the fine costs until a decision is made. The review will take only a few weeks, however the process may take up to 90 days or longer if more information is required from you.
Step 6. What you can do if your application is unsuccessful.
Your remaining options will be outlined in the letter Council will send you and a new payment date will be set.
If you don't pay the fine or take any other action (for example, request a payment extension or elect to have the matter heard at magistrate's court) by the new due date, the fine will continue through the fine process and additional costs will be added. This process is set out in the Infringements Act 2006.
The Act allows you to only make one application for review. Council will not consider further correspondence regarding a fine that has already been reviewed unless you are providing relevant new evidence.
At this stage you could pay the fine. Links to paying your fine online are located on the right hand side of this page.