It's time to gather on the grass and move to the music! We have a great line-up of performers for you this year at the Whitehorse Australia Day Concert.
Family-friendly activities and food trucks kick things off from 5pm, and kids' favourites All Day Fritz start the concert at 6pm. The Mayor's welcome and the Australia Day Awards presentation will follow. 
 
We've got Wendy Stapleton hosting — and lots of bands performing! Check out our full line-up for details, which includes Elvis cover act Anthony Petrucci, the funky Vaudeville Smash and contemporary Darlinghurst. 
 
Whitehorse City Council understands this day holds different meaning for different people, particularly First Nations people. Our concert is held in the spirit of community, and we respect our community's choice to acknowledge this day in whatever way they choose. 
Date: Thursday 26 January 2023
Family activities: from 5pm
Concert: 6pm-10pm
Location: Tunstall Park - rear of Nunawading Community Hub
96-106 Springvale Rd, Nunawading VIC 3131
Admission: Free
Please note there will be no fireworks at the Australia Day Concert. The Tunstall Park location is not suitable for fireworks due to its proximity to surrounding residential properties.
This is also a glass-free event; thank you for your cooperation.
Getting There
There is limited parking at the Nunawading Community Hub and surrounding streets. Parking is available at the Whitehorse Civic Centre and at Silver Grove. Attendees are encouraged to walk, cycle, or take public transport.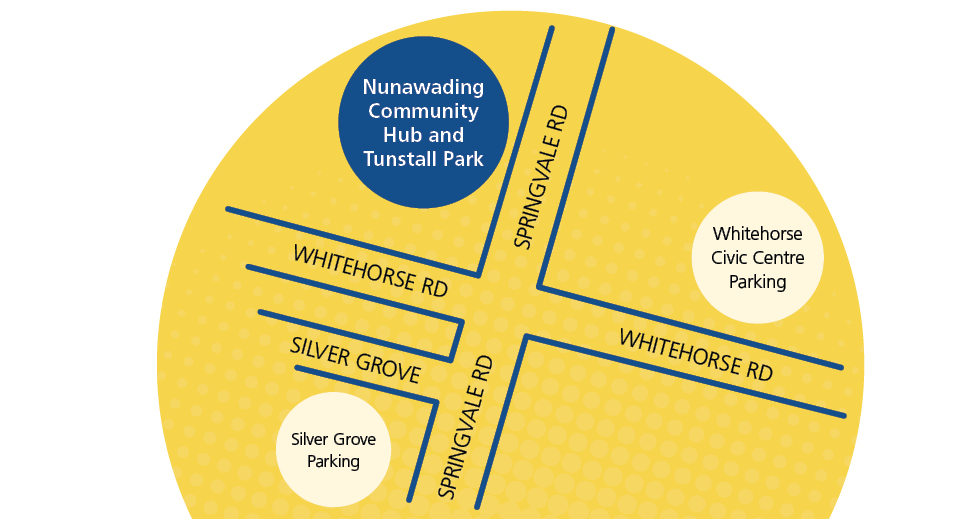 Accessibility 
Accessible parking and toilets will be available.  Accessible parking is located in the upper car park on Springvale Rd.  There is an accessible path to the left of the accessible car parking that leads directly to the event site.  Accessible toilets are located near the Guide Hall.
The full concert will be AUSLAN interpreted with a dedicated viewing area at stage left with interpreters also on the big screen.
Food Vendor Expressions of Interest
The 2022/23 Whitehorse Festival Season Food Vendor Expressions of Interest have now closed. To be added to the mailing list please email arts@whitehorse.vic.gov.au.
Sponsorship
If you are a local business interested in learning more about sponsorship opportunities, please contact Council's Festival Coordinator on 0407 841 024 or arts@whitehorse.vic.gov.au.
Follow us on Facebook to keep up to date.