As part of the Roadmap to reopening, our playgrounds and outdoor gym equipment are open from 14 September.
Skate parks remain closed.
Daily exercise has been extended to a maximum of two hours across max two sessions, but we still need to wear our masks, maintain 1.5m distance, exercise within 5km of home and get tested if we have symptoms.
Visit the DHHS website for more information.
_____________________________________
There are over 170 playgrounds across Whitehorse for children to have fun and be active.
We have developed a Play Space Strategy to guide the upgrade, replacement and installation of public play spaces. 
Popular Playgrounds
Halliday Park
Box Hill Gardens
Blackburn Lake Sanctuary
There are many playgrounds that cater for children with a disability.
Playgrounds That Cater for Children With a Disability
Playground
Location
Features
Tunstall Park Playground
Luckie Street, Nunawading

Tunstall Park is a large-sized playground surrounded by existing vegetation of large eucalypts. The playground supports an early childhood play environment with cubby houses and rockers, as well as a more adventurous type of play with a variety of stations designed to develop a child's strength and physical capabilities.

The park offers multiple swings, slides and linked activity units to provide a child with the most out of a constructed play environment. The swings at this playground are accessible and the surfacing is rubberised for ease of movement to the swing set.

Tunstall Park includes a large playground with a tram/transport theme, accessible swings. Suitable for ages 2-12 years.

Surrey Dive Park Playground
Off Elgar Road, Box Hill at Standard Avenue

Surrey Dive playground is a series of two medium-sized playgrounds situated adjacent to Surrey Dive Lake.

The playground is adventurous with a large spiral slide, lighthouse structure and accessible swings. The playground engages with a child's imagination with a large timber pirate ship situated in the middle.

The swings at this playground are accessible and a rubberised surfacing provides ease of movement to the swing set. Surrey Drive includes two playgrounds, one themed as a sail boat and one themed as a light house, accessible swings.

Suitable for ages 2-12 years. Barbeque, park tables and shelter on site.

Hanover Reserve Playground
Hanover Road, Vermont South

Hanover Reserve is a medium-sized park that offers adventurous type play.

The linked climbing activity units provide a variety of stations designed to develop a child's strength and physical capabilities. The park offers multiple slides and swings to engage a child in play.

The swings at this playground are accessible and contain rubberised surfacing for ease of movement to the swing set. Hanover Reserve includes medium playground with accessible pathways and ramp leading up to a deck.

Victoria Rose Play Space (Glenmore Chain)
Victoria & Rose Street, Box Hill

The sensory play space aims to create a relaxing and therapeutic space for all members of the community, a place to relax, reflect, meditate, contemplate and talk.  

The sensory garden provides an outstanding example of a playful landscape and garden accessibility, as well as a local destination for people with disabilities and their families and carers.

Paths are fully accessible and a variety of equipment is interactive for all users. small local bird themed playground, with sculptured animals and birds throughout the space.

Also included are sensory play pieces which engage users with sound at this play space. 

Furness Park
close to Heath Street, Blackburn
All-abilities swing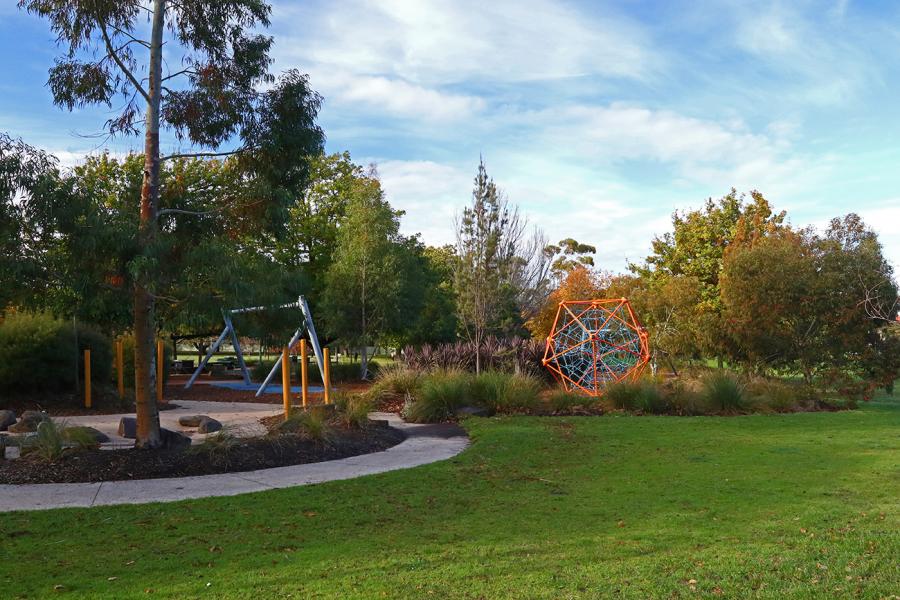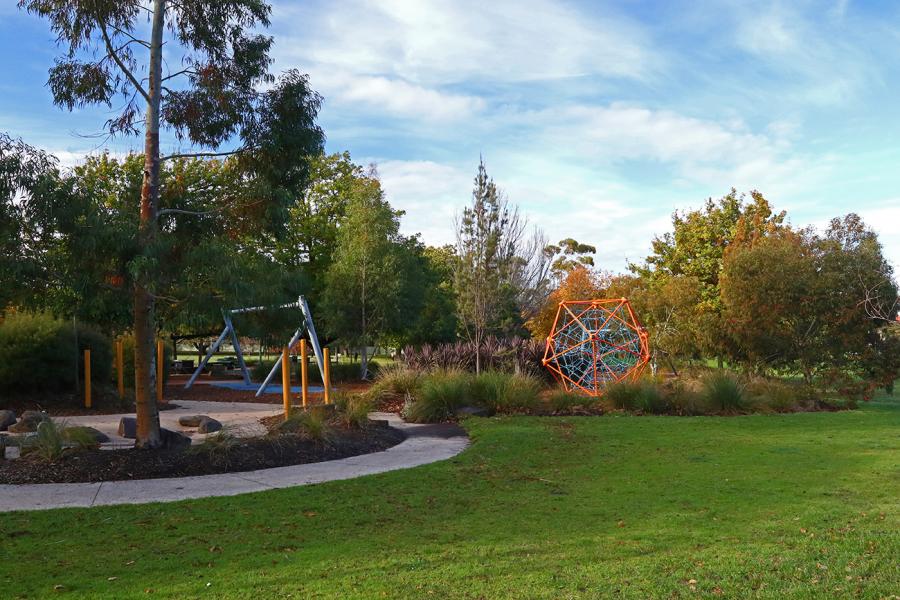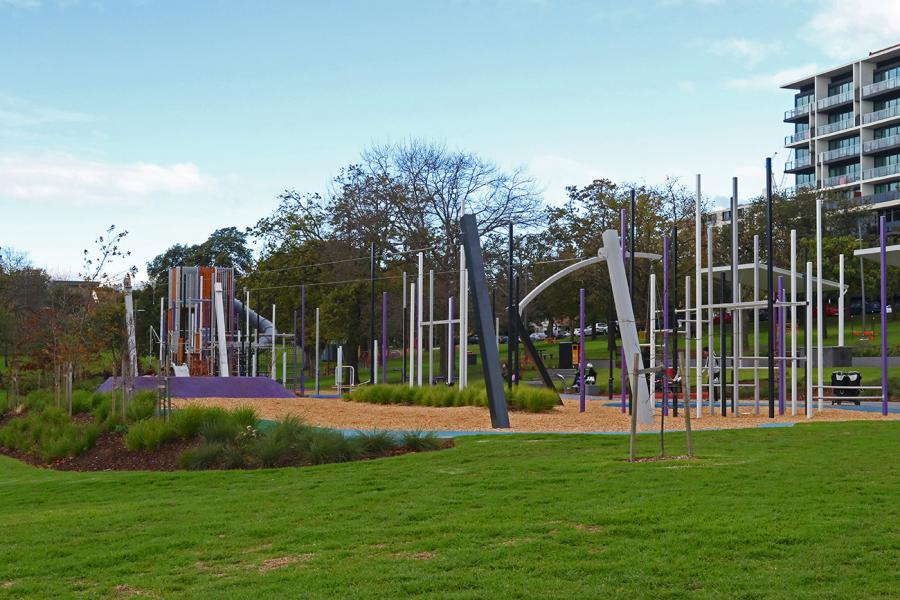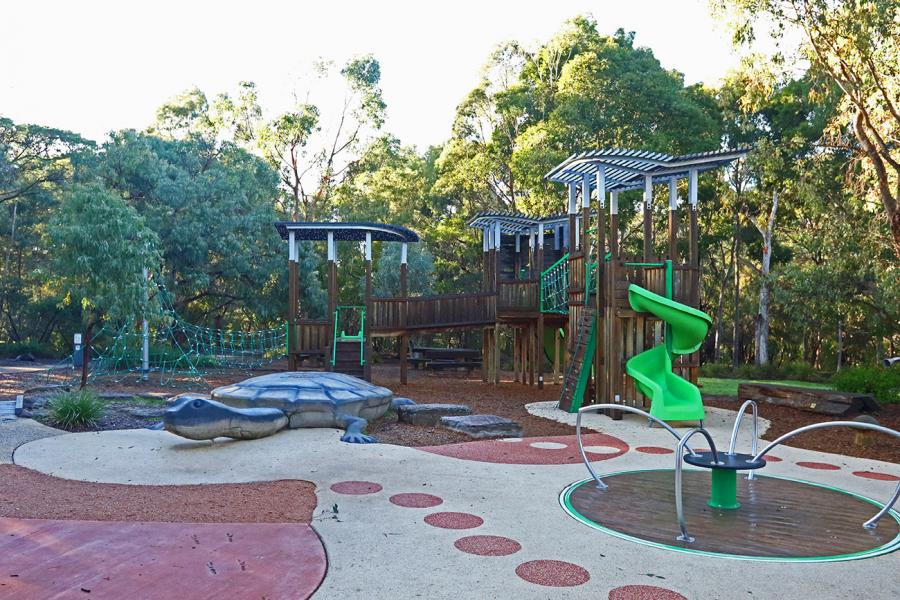 Blackburn Lake Playground