Whether you're decluttering or moving out, residents are entitled to two FREE booked hard waste collections per financial year to dispose of bulky, broken, unrepairable household items and garden waste.
Through your booked collection, we recycle approximately 1,286 tonnes of hard waste per year. 
Consider if the item is in good working condition to donate, sell, repair or reuse.
Our HomeCycle service is open and lets residents to donate items in good condition. 
Options available can be found in the frequently asked questions below.
Booking a Collection
Residents are entitled to two free hard waste collections each financial year.
Items placed on the kerbside without a booking is considered as illegal dumping and can result in a fine. Help us do the right thing and follow the instructions below.
Book Your Collection

Book by 5pm Wednesday to have your hard waste collected the following week. This may be longer in busy times.
Book a collection online or call our contractor on 9780 6120. To avoid busy phone lines, it is recommended to book online
Refer to the hard waste size guide to determine your entitlements and whether you wish to use one or two entitlements. Additional bookings can be made at a cost.
Inform the contractor of the types of items for collection (i.e hard waste, bundled green waste, metal and electronic waste, mattress). Items not stated in the booking risk not being collected as these items are collected by separate trucks.

Booking Confirmation

Bookings will be confirmed by email and/or sms informing you of your collection week.
An information pack will be mailed out prior to your collection week. The pack will include an orange BOOKED sticker. 

Presenting Your Collection Correctly

Neatly place accepted items on the nature strip the weekend before your collection week (by 6am Monday morning for collection during that week). Refer to the hard waste brochure or the list below.
Items must not be placed out earlier
Materials should not exceed your collection size (refer to the hard waste size guide below)
Each item should be easily lifted by two people.
Place the 'BOOKED' sticker on the waste pile to an item that is unlikely to be removed and can be clearly seen from the road. If your pack does not arrive in time, please write your Customer Reference Number (eg. 677-1466800) in block letters on an A4 piece of paper and attach it to the front of your pile.
Hard Waste Size Guide
Place no more than three cubic metres of items on your nature strip, excess will count as two collections.
Items should be no heavier than two people can lift and less than 1.5m in length.
One collection entitlement
3 cubic metres
1m x 3m x 1m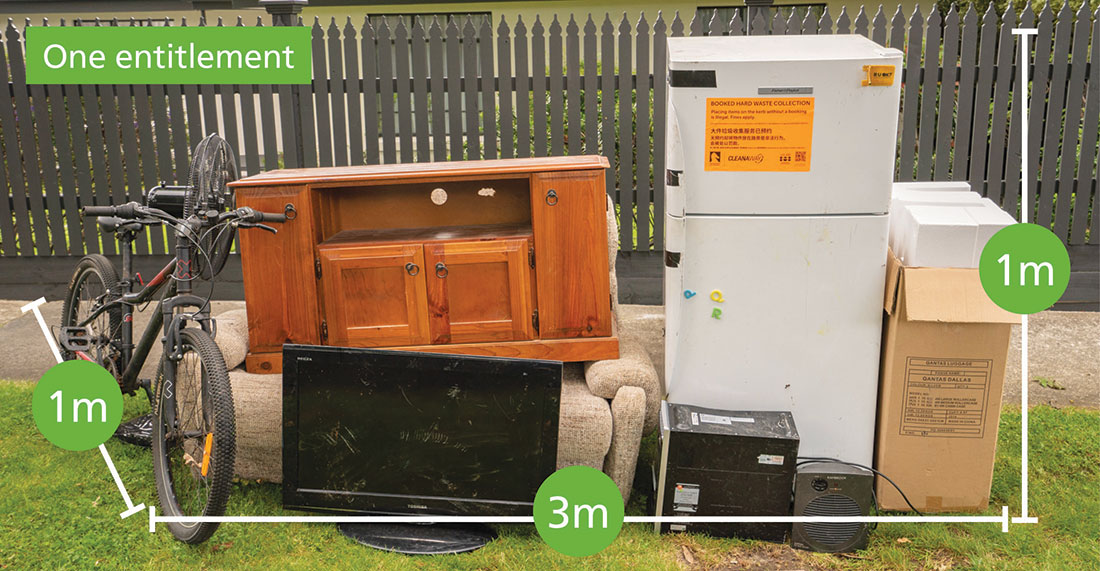 Two collection entitlements
6 cubic metres
1m x 6m x 1m
Mattress collection
Mattresses should not have any other hard waste placed on top of them when placed out for collection.

Frequently Asked Questions (FAQs)