Whether you're decluttering or moving out, residents are entitled to two FREE booked hard waste and tied bundled branch collections per financial year to dispose of bulky, broken, unrepairable household items and garden waste.
Through your booked collection, we recycle approximately 1,286 tonnes of hard waste per year. 
Booking a Collection
Book a collection online or call our contractor on 9780 6120. Please note phone lines may sometimes be busy, it is recommended to book online to avoid being placed on hold
If you are having issues submitting a booking online using Internet Explorer, try using a different internet browser
Book by 5pm Wednesday for a possible collection the following week. During busy periods bookings may take up to two weeks
Bookings will be confirmed by sms and/or email informing you of your collection day. To reconfirm bookings please call our contractor directly
Confirmed bookings may receive an information pack including an orange 'BOOKED' sticker 
Neatly place items on the nature strip the weekend before your collection week (by 6am Monday morning for collection during that week). Do not place items on your nature strip any earlier. 
Present accepted items neatly on your nature strip. Refer to the hard waste size guide and accepted items below.
Place the 'BOOKED' sticker on an item so it is clearly visible from the road. 
If items exceed 3 cubic metres (3m x 1m x 1m), two annual entitlements will be used. If two collections have already been used, the excess waste is considered illegal dumping and you risk receiving a fine.
If items exceed 6 cubic metres (6m x 1m x 1m), this is considered illegal dumping and you risk receiving a fine.
Placing items on the kerb without a hard waste booking is illegal and fines of up to $1,900 may apply for individuals and $10,000 for body corporates.
Illegal dumping is unsightly, environmentally damaging and can injure people and animals. Illegal dumping costs ratepayers over $600,000 to clean up each year. 
Hard Waste Size Guide
Place no more than three cubic metres of items on your nature strip, excess will count as two collections.
Items should be no heavier than two people can lift and less than 1.5m in length.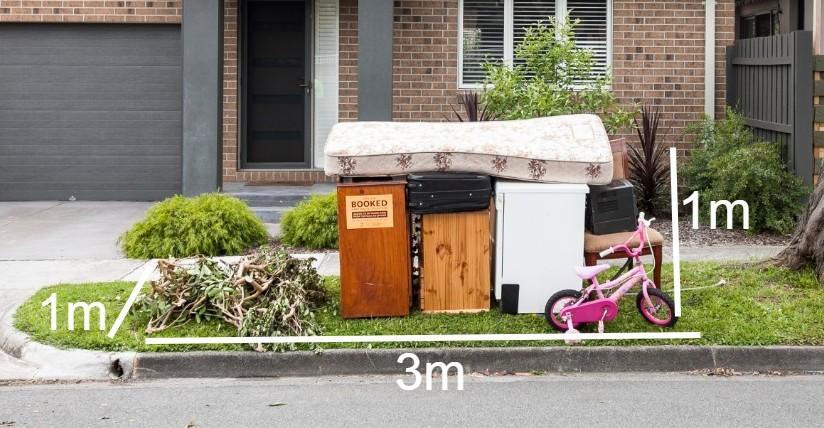 Frequently Asked Questions (FAQs)