The Hub is Council's first 5 Star Green Star rated building. It is a place where people of all ages and backgrounds are welcome. People can come together to embrace new opportunities for learning, social interaction and getting active. 
Location
Address: 96-106 Springvale Rd, Nunawading, 3131
Phone: 9878 5555
Email: NCH@whitehorse.vic.gov.au
Bookings: For all room booking enquiries, visit the Creative Whitehorse website and submit an enquiry. 
About the Nunawading Community Hub
The Hub has a variety of spaces including: an indoor stadium, 3 dance/activity spaces with sprung floors, 3 art rooms and a variety of meeting room spaces.
The Hub has approximately 200 car parking spaces and operates 7 days per week.  
The Hub has achieved a 5 Star Green Star rating by the Green Building Council of Australia. Buildings that receive this recognition are built to:
protect the environment
emit less carbon in construction and operations
are water efficient and 
have improved air, light, acoustics and product finishes. 
Spaces to hire
Find out more about the spaces to hire and view photos.
Please note all Studio and Meeting Room bookings must hold public liability insurance. Bookings for private functions and parties are not accepted.
Community groups
The Hub is home to the following community groups:
There is also a variety of activities run by other community organisations.
For stadium bookings email nch@whitehorse.vic.gov.au 
Line markings in the stadium include basketball and 3 badminton courts.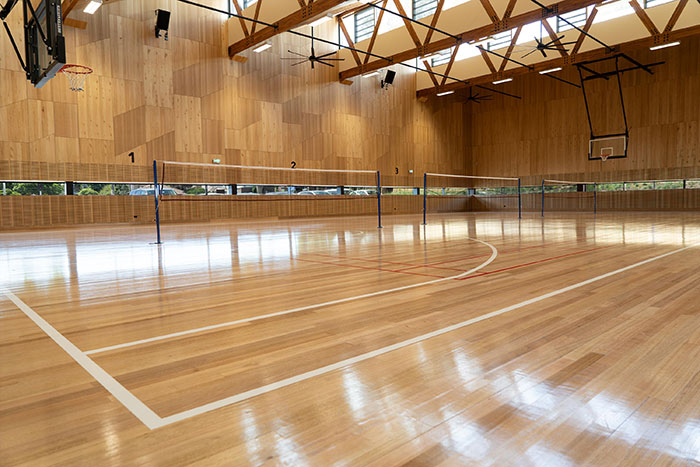 Booking contact responsibilities
The booking contact person is responsible for ensuring that all patrons associated with the booking (including coaches, players, officials, spectators, parents & guardians) register their attendance when arriving on site, using the Nunawading Community Hub QR sign in system 
The booking contact person is responsible for ensuring all patrons associated with their booking follow Nunawading Community Hub protocols and those from DHHS and Victorian Government
All groups using the facility must abide by the current restrictions as outlined on the DHHS website and submit a CovidSafe Plan prior to the commencement of any activities.
Find out more information on the Nunawading Community Hub project.