Council offers a Reusable Items Collection for electronic waste (e-waste), reusable clothing and household items so that they do not end up in landfill. 
The refreshed program, previously known as Re-new, includes:
_________________________
HomeCycle
Have unwanted reusable items at home? We will give them a second life. 
HomeCycle is a FREE service that gives Whitehorse residents the opportunity to donate household items in good condition, without leaving the comfort of their home.  
We've partnered up with SCRgroup to deliver this convenient service, which will run weekly till the end of June 2023. Limit of one pick-up per household. 
The last time we ran HomeCycle we collected 35,550kgs of household items. Of these items, 70% were rehomed to communities that needed them most and the remaining items were recycled. 
To book a free collection visit HomeCycle
What is accepted? 
• Clothing, textiles and materials - Clean, wearable children's, babies and adults clothing, shoes, hats, handbags, sporting bags, belts, fashion accessories in reusable condition. Includes Worn or Torn materials – Please bag separately and marked 'Worn and Torn'.
• Manchester - Sheets, pillowcases, doona covers, towels and blankets
• E-waste - Keyboards, TVs, monitors, speakers, computer towers and printers, laptops, mobile phones, electronic tools, lamps, hairdryers, hair straighteners, small electrical items and vacuum cleaners.
• Homeware items - Bric-a-brac, cookware, kitchenware, games, toys, musical instruments, camping equipment, sporting goods and eskys
• Small furniture items - Side tables and coffee tables
• Large furniture items - Bookcases, tables, tallboys, TV cabinets, bed frames (no mattresses) and recliners (single seater chair) and dining chairs – All furniture items are collected at the end of the month only.
• CDS, DVDS and videotapes
• Bikes and Prams - Includes Adults and children pushbikes and cycling bikes. Prams in a clean a sanitary condition
Items not accepted include mirrors, whitegoods, vacuum cleaners, mattresses, lounges, sofa beds, baby items, outdoor settings and BBQs, batteries, pillow and doonas, tyres and hazardous waste.  
This is one of the many ways we are working to reduce waste ending up in landfill, while supporting local charities and those most vulnerable in our community. 
To find out more or to book a free collection visit HomeCycle
_________________________
Clothing and E-waste Trailers and Hubs
We have clothing and e-waste trailers across the municipality for collection of clothing (good condition, worn or torn) and small electricals. 
Trailers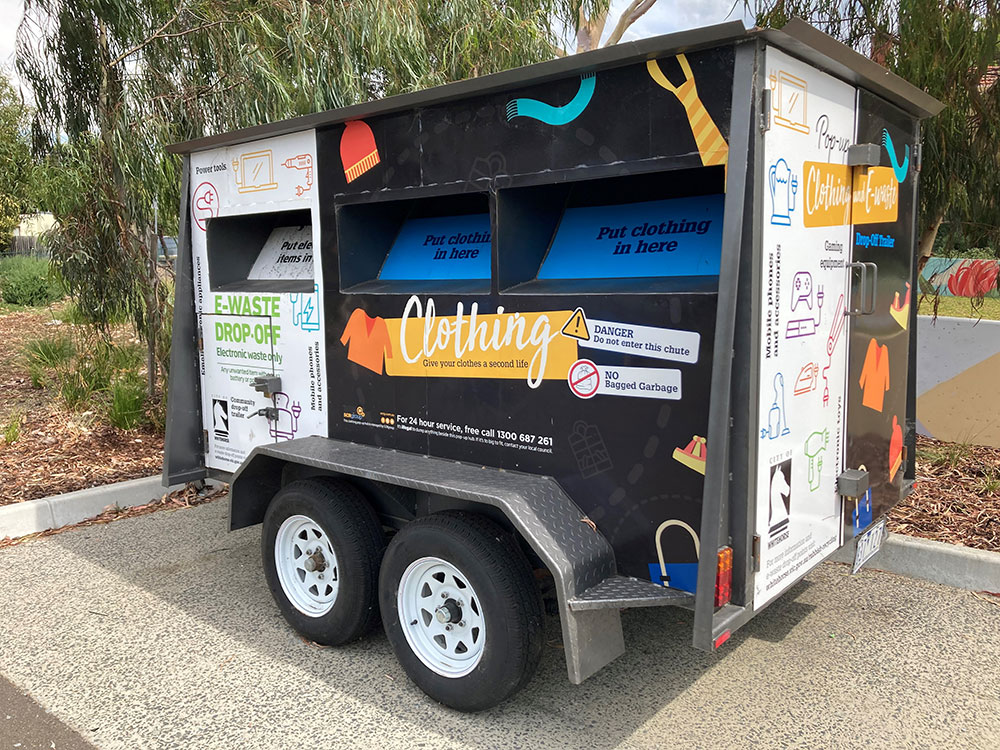 The trailers are at the following locations:
Nunawading Community Hub, 96-106 Springvale Rd, Nunawading VIC 3131
Sportlink Vermont South, 2 Hanover Rd, Vermont South VIC 3133
Aqualink Box Hill, 31 Surrey Drive, Box Hill (this site will move shortly)
Hubs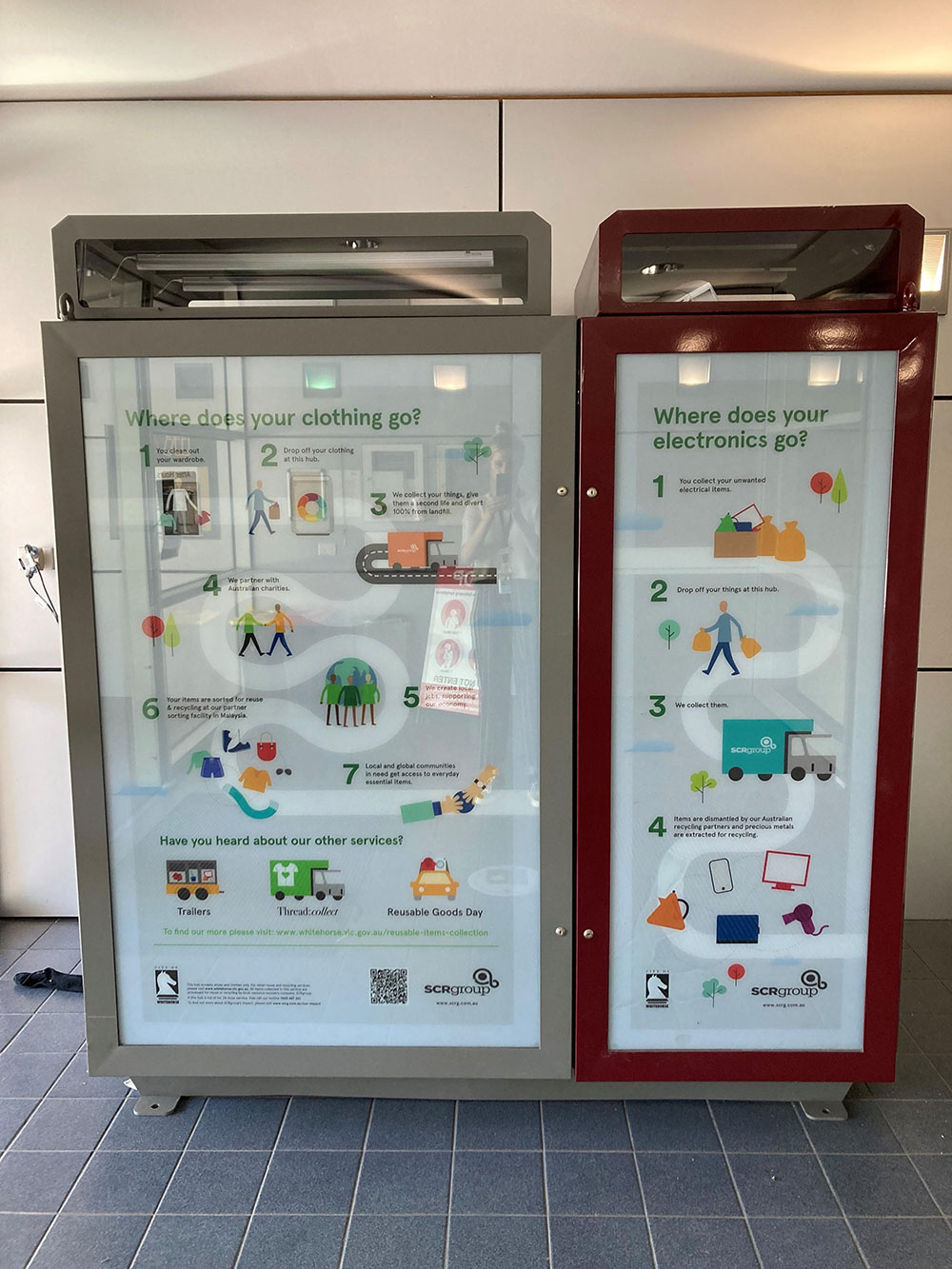 The recycling hubs can be found at the following locations:
Aqualink Nunawading, Fraser Place, Forest Hill 3131
Inside the foyer of Nunawading Library, 379 Whitehorse Road, Nunawading 3131. For opening hours please visit the Whitehorse Manningham Libraries website. 
Box Hill Library, 1040 Whitehorse Road, Box Hill 3128
Accepted items
Clothes, shoes, handbags in a clean and reusable condition (worn and torn also accepted)
Small electrical items with a cord (laptop, mobile phones, radio, hair dryer, hair straightener/curler, kettle, toaster, electrical tools, air fryer, electric blanket, sewing machine, blender, food processor etc.)
How to use the hubs & trailers
There are two chutes, one for electronic waste and one for clothing, please separate items accordingly. 
To place items into the chute, there will be signage indicating to push items up into the opening. There is no need to open any doors. Please see the image below.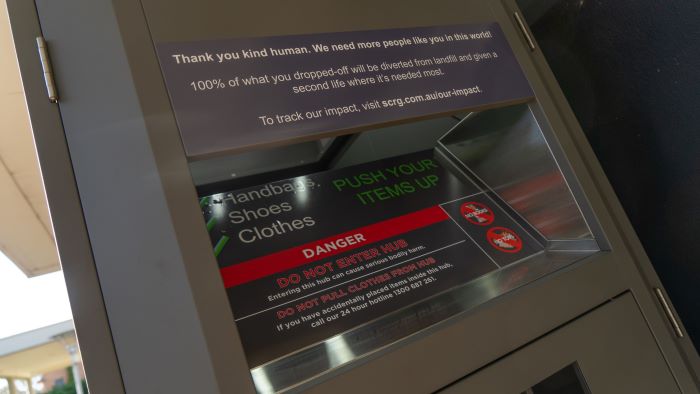 Residents can drop off as many items as needed. Please ensure items are bagged. When dropping off clothing and e-waste, please do not jam the items into the chute or place items on or next to the trailer/hub.
Items not accepted
Toys, furniture, large electrical appliances (such as fridges and stoves), soiled clothing, mattresses, books, doonas, pillows, bric-a-brac (household items like photo frames, glassware and kitchenware).
If the trailer or hub is overfull or there is dumping
A sensor will automatically alert the collection company to empty the trailer/hub. Should there be any issues or illegal dumping please call the 24-hour hotline on 1300 687 261.
Why we provide these services
Textile and electronic waste (e-waste), are two of the fastest growing waste streams in Melbourne. Textile waste makes up approximately 4% of waste sent to landfill and remains one of the top five items incorrectly put in the recycling bins, while electronic waste was banned from landfill as of 1 July 2019.
We are committed to waste reduction and work with partners like HomeCycle to expand opportunities to easily reuse and recycle items. We still encourage donations of reusable items to local charities, although call ahead to see if the item is accepted or needed prior to donating.