Although trees and shrubs in private gardens can add to a pleasant environment in our streets, local residents may have their walks around their neighbourhoods made difficult because of overhanging/encroaching vegetation from private property.
Any vegetation that is not confined to your property's perimeter may be considered to be an obstruction. Clearing obstructions ensures the path is clear for all users including people with specific access needs, such as those using prams and wheelchairs, the visually impaired etc. This will ensure safety for pedestrians and traffic.
Under the Whitehorse Community Local Law 2014 ( PDF 280.06KB), trees and other vegetation that overhang onto the street from a private property cannot interfere with traffic flow or essential service infrastructure such as power lines. 
Council regularly inspects local streets to check for overhanging or encroaching vegetation. However, if you know of obstructing overhanging vegetation, please contact contact Council to discuss the issue or use the Snap, Send Solve app on your smart phone to report the issue.
Resident Responsibilities
Under the Whitehorse Community Local Law 2014 ( PDF 280.06KB), a property owner or resident of Whitehorse is responsible for to ensuring that vegetation from their property such as hedges ( PDF 167.83KB), trees, shrubs and ground coverings do not extend over the footpath, roadway, lane way, nature strip or Council reserves or obstruct essential service infrastructure such as power lines. Council asks residents to ensure that: 
Overhanging trees and branches are cut back to the properly line and are 2.5 metres vertically clear of the footpath
All plants protruding through or over the fence are trimmed back to the property line
Any ground cover on the footpath is cut back to the property line
Tree branches from your property are cleared at least 1m from essential services infrastructure such as power lines. 
DO NOT attempt to remove or prune trees near power lines yourself, even if they are on your property. Always seek professional help.
If the overhanging vegetation is a hedge of significance, please refer to the Significant Hedge Maintenance Policy ( PDF 167.83KB).
Please refer to the image below as an example: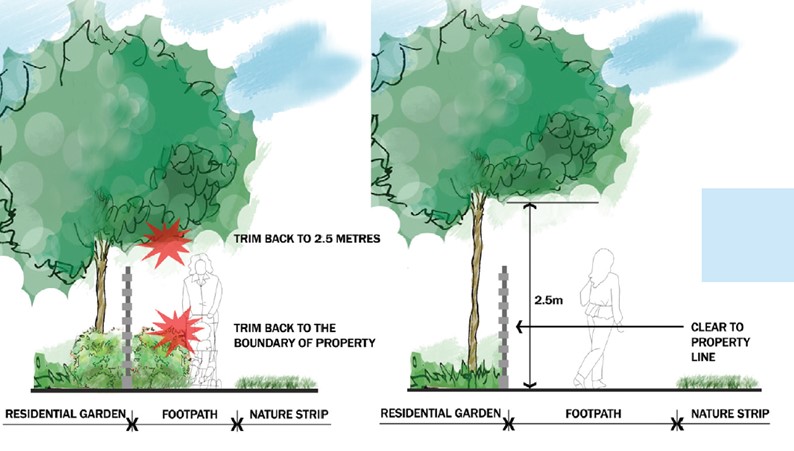 When overhanging or encroaching vegetation from a residential property is found, Council staff leave a notice in the letterbox of the relevant property.
Property owners will be asked to remove any overhanging/encroaching vegetation and to inform Council that they have done so.
When the property owner does not respond, Council will re-inspect the property. If the vegetation is still overhanging/encroaching, the property owner will receive a formal notice directing them to remove the vegetation. 
If property owners fail to act after the second notice, the overhanging vegetation maybe compulsorily cleared with all costs passed onto the property owner. Fines may also be issued for the overhanging vegetation and not responding to a Notice to Comply.
Council Responsibilities
Apart from inspecting properties for overhanging vegetation and requesting residents to trim the vegetation, Council is responsible for trimming overhanging vegetation from Council land and has an active trimming works program.
Neighbour Disputes
Overhanging branches or roots from a neighbour's tree coming on to your property can cause conflict. If you have a concern about overhanging branches or tree roots encroaching on your property, your first step should be to talk to your neighbour and see if you can resolve your concerns between you.
If your neighbour does not resolve the issue to your satisfaction, you can contact Council for advice. Council is limited in what it can do as a neighbourhood dispute is a considered a civil matter and Council does not involve itself in neighbourhood disputes. However, you can contact Council for limited advice on the possible next steps you could take.
For assistance and further advice on neighbour disputes you can visit the following web sites: