Drivers have a range of parking options available across the City of Whitehorse. These options include parking on the streets and in off-street parking areas. In most instances parking is free, however, drivers may need to pay for parking in high demand areas such as Box Hill Central and the Box Hill Hospital precinct.
Unrestricted On-Street Parking Areas
Most residential streets in the City of Whitehorse have unrestricted on-street parking. Anyone may park in a designated parking area at any time of the day. However, if a vehicle has not been moved in 14 days, it may be considered to be abandoned or derelict and may be issued a fine/infringement.
If a registered vehicle is left parked and unmoved for more than 60 days it may be towed away. A notice to the registered owner will be issued before any action is taken.
Vehicles greater than 7.5 metres in length or 4.5 tonnes in weight require a permit to be parked on residential streets for longer than one hour. Permits are not generally given in residential streets. Applications should be forwarded to Council's Transport Engineers.
Parking demand in residential areas is monitored and where the demand for parking is high, residents may be surveyed and on-street parking restrictions may be introduced. To request a review of parking in your area, contact Council's Transport Engineers on 9262 6333.
Restricted On-Street Parking Areas
There are a number of different types of parking restrictions that may be introduced to regulate street parking in areas. These include:
Time-restricted parking, for example, one, two, three or four hour parking restrictions with, or without, ticket machines or in-ground parking sensors
Permit parking
Ticket machine parking areas
Special needs parking such as Loading and Bus Zones and Disabled areas
Residents, people with disabilities, commercial traders and construction workers may be eligible for parking permits in time-restricted parking areas.
Off-Street Parking Areas
Off-street parking areas are generally available near shopping precincts, railway stations, educational institutions, hospitals and nursing homes.
Many off-street parking areas are private and require permits or paid parking tickets to be displayed on the windscreen or dashboard of your vehicle. Be sure you take note of the parking sign and park for no longer than allowed.
Council has a number of all day off street parking options in Box Hill including Watt St, Ellingworth Parade, and Station St. Harrow Street Car Park is a great parking option for people visiting, commuting or working in Box Hill.
Websites and apps such as Parkopedia provide useful information about off-street parking locations and pricing in the City of Whitehorse.
Parking at Council Offices
Parking restrictions at the Whitehorse Civic Centre, Nunawading library, Box Hill Town Hall and other Council buildings are strictly enforced. Please observe the parking restrictions when you visit Council offices.
Car parking options have changed at the Civic Centre during construction of the Whitehorse performing arts centre.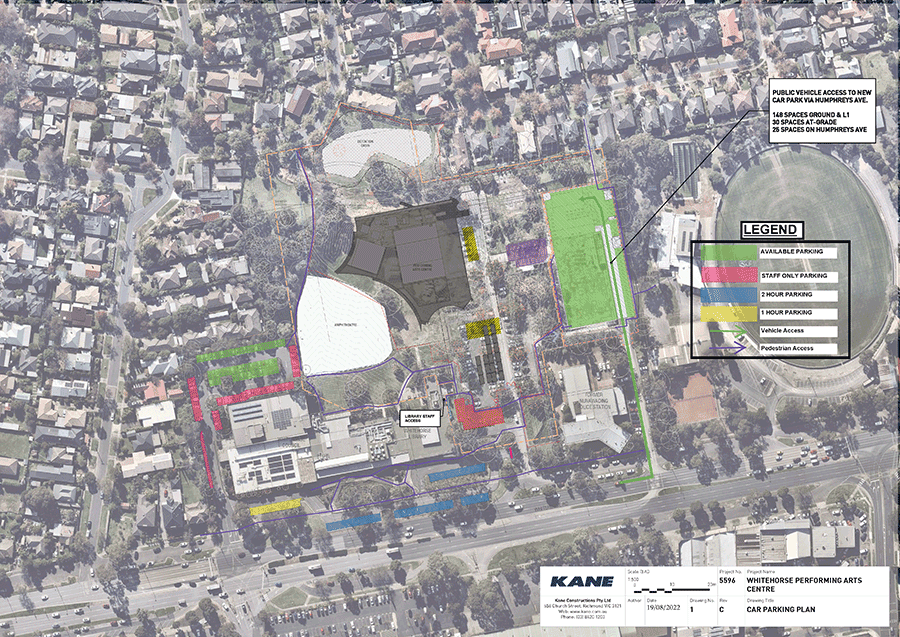 Whitehorse Civic Centre Parking ( PDF 5MB)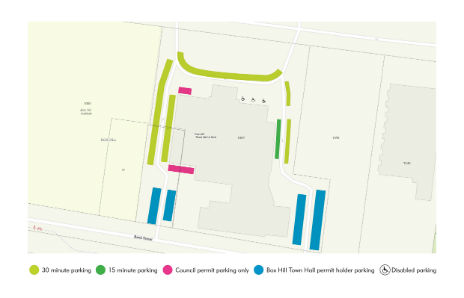 Box Hill Town Hall Parking ( PDF 258.06KB)
Motorcycle Parking
You may legally park a motorcycle on the footpath. To park your motorcycle on a footpath:
Dismount and walk your motorcycle while you are on the footpath
Make sure your motorcycle is at least one motorcycle length out from the building line to allow free passage of pedestrians (this is important as people with a visual and/or physical impairment may use the building line for navigation)
Park at least one motorcycle wheel diameter back from the road kerb to allow pedestrians free access to and from the road and to parked vehicles (you can leave less space between your motorcycle and the kerb if you park next to a 'No Stopping' zone)
Do not park your motorcycle:
Where signs indicate that footpath parking is banned for motorcycles
Opposite any parking bay reserved for people with disabilities (marked with a wheelchair sign and symbol)
Where space is reserved for footpath activities such as street cafes
On or near service access points such as manhole covers, post boxes or rubbish bins
Near taxi ranks or bus and tram stops
In a spot that will obstruct other people's access to a ticket machine or meter
On private property without permission from the property owner
In 'No Stopping' areas for motorcycles.