An activation is an activity or program that creates an opportunity for people to connect with one another in a public space.
An activation program may be influenced by arts, culture, learning and wellbeing and promotes inclusiveness, being available to people of all ages, abilities and backgrounds.
What's On 

Exciting New Box Hill Mural Project
Mural paintings along the six retaining walls in Market Street Box Hill have now been completed.
Buff Diss was selected through an artist Expression of Interest that occurred earlier this year.
Painting commenced in early October with the project and it was completed at the start of November 2023. 
The painted artwork responds to the theme Sustenance: Drawing on the diverse food, ingredients and local food growing practices that make Box Hill unique. Buff's work is a beautiful abstract representation of the theme to brighten up Box Hill and make it more inviting.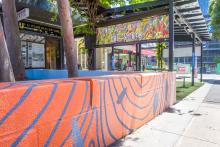 Be sure to visit Market Street, Box Hill to view these amazing murals. 
Bike It Better
Free monthly pop up bike repair workshops. Be sure to check back to see when the next bike repair workshop is scheduled. 
Art Banners
Large art banners designed by local artists with a disability are now on display in Box Hill Mall. This project is a collaboration between Council and Nadrasca Disability Services to celebrate International Day of People with Disability.
Got an idea or a question?
Email us: activate@whitehorse.vic.gov.au
Activation Pods
Council have dedicated outdoor spaces for community groups, charitable/not-for-profit groups, and activation teams to host and coordinate activations. The activation pods can be hired and you must meet the Activation Pod Booking guidelines ( PDF 139.1KB). 
Book a Whitehorse Activation Pod.