A Construction Worker Parking Permit allows for construction workers or tradespeople working on smaller construction projects of between one and twelve weeks duration to park their vehicles on-street in areas where parking restrictions apply, for example, timed or metered parking.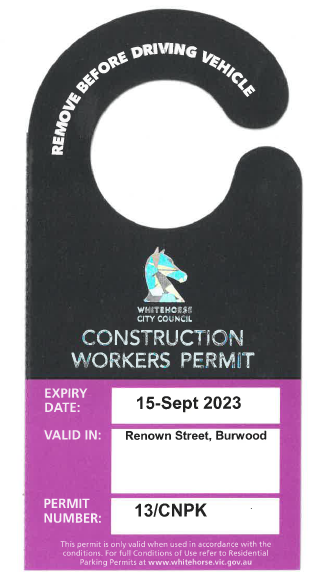 Number of Construction Worker Parking Permits Available
A maximum of four (4) Construction Workers Parking Permits may be issued to a construction site and each permit is specifically associated with a construction site.
No additional permits may be requested.
Who can apply for Construction Worker Parking Permits
Construction Workers Parking Permits are available for construction workers working on a construction site for a minimum of one (1) week and a maximum of twelve (12) weeks.
Permitted Vehicles
Construction Worker Parking Permits may be displayed in in vehicles that do not exceed 7.5 metres in length or 4.5 tonnes in gross weight.
Construction Worker Parking permits can NOT be used in relation to motor homes, caravans, boats, earth-moving machinery or equipment.
Construction Worker Parking Permit Cost
The permit fee varies depending upon the number of permits applied for and the type of on-street restriction that applies along the construction sites frontage.
| | |
| --- | --- |
| Administration Fee | $98.00 |
| Metered Parking Fee per bay per day |      $41.00 |
| Non-metered Parking Fee per bay per day | $9.00 |
Note: Payment must be made at the time of lodgement. If the application is unsuccessful, the payment will be refunded in full.