If you choose to pay your rates in one lump sum, payment will be due on Wednesday 15 February 2023. If you are paying by quarterly instalments, the first instalment payment will be due on Friday 30 September 2022. 
This video explains how your share of the rates is calculated.
  
Your annual rate notice will be different from August 2023 
From the 2023-24 financial year, there will be a change to the annual rate notice. The rate notice will be itemised to include a Kerbside Waste Service Charge, Public Waste Service Charge and Supplementary Bin Charge.
Visit the Waste Service Charge page to learn more.
Email rate notices 
Whitehorse City Council encourages ecologically friendly delivery of your rates notice via electronic methods. See section below on How To Receive Your Rates Electronically. Sign up today and do your bit to save the planet.
Please note that payments made by credit cards will incur a surcharge of 0.6%. This fee helps Council to recover the cost of merchant fees charged by financial institutions. 
Credit card surcharge fees do not apply for payments made by BPAY, payments by debit cards, cheque, cash or money order or payments in person at Australia Post.
Your rates provide around 58 per cent of Council's total annual income, which helps to deliver more than 100 services to residents.
This income funds various Council services, including:
home and community care for elderly and disabled residents
maternal and child health
maintaining roads, footpaths, parks and gardens
maintaining sports grounds and leisure centres
This year the Victorian State Government has set the rate cap at 1.75 percent for all councils in Victoria. Council's total income collected from rates increases by 1.75 per cent and will raise total rate revenue to $129.20 million.
Council's rating year starts on 1 July and ends on 30 June.
Council rates notices are sent out each year in mid to late August. 
Find out more about how rates are calculated and how councils work.
When Are My Rates Due?
You can choose to pay your rates in a lump sum (the total amount in one payment), or in four instalments.
If you choose to pay a lump sum, your rates are due on Wednesday 15 February 2023.
If you choose to pay your rates in instalments (smaller amounts spread over a period of time), the due dates for each amount are:
Friday 30 September 2022
Wednesday 30 November 2022
Tuesday 28 February 2023
Wednesday 31 May 2023
If you are unable to pay your rates in full or by instalments by the due date, you may enter into a payment plan. 
Our online Rates Payment Plan Estimator can help you work out the minimum payments required.
If you are experiencing hardship please contact our rates department at customer.service@whitehorse.vic.gov.au or call us on 9262 6292.
You can also view our Hardship Policy ( PDF 603.2KB). 
Council has two ways you can register to receive your rate notice electronically.
Email Delivery: Sign up online to receive your rate notice by email. 

You will need to reference your rate notice
Enter your assessment number and name exactly as it appears on your rate notice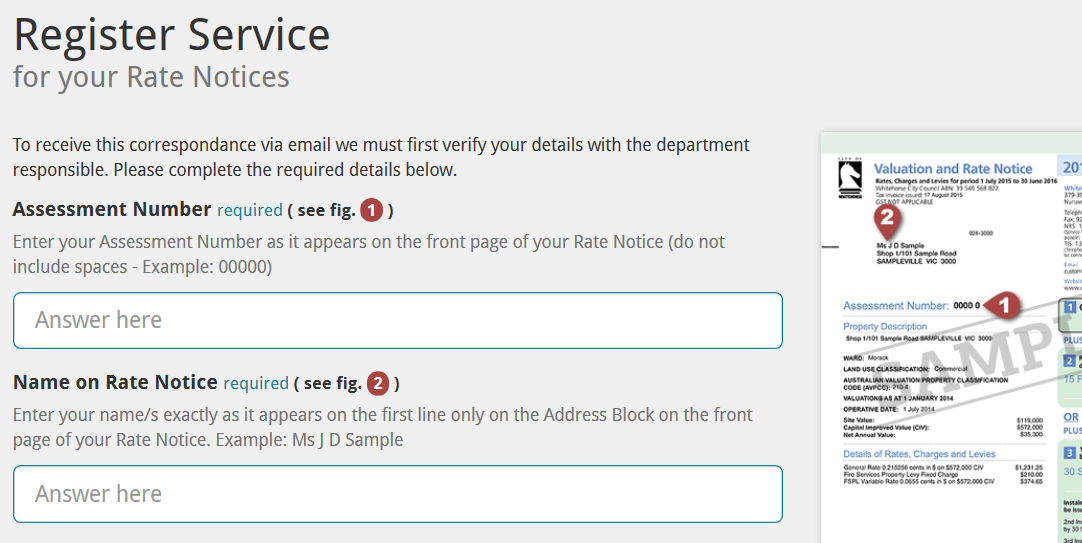 BPAY View: Register through your online banking. BPAY View sends your bills straight to your bank online, making receiving, storing and paying is even simpler. Find out more at BPAY View.