Riding a bike is a simple and easy form of transport. We are keen to bust the myth that you have to be a certain age or fitness level to use a bike to get around. We've developed a network of low-stress local streets and off-road cycle paths to help make cycling to work or the shops safe and comfortable. 
The six new Easy Ride Routes are now open for public use. The Easy Ride Routes mainly use quieter local roads and sections of informal paths through local parks and reserves. Riders should take care and ride within their abilities and to the conditions.
On local roads, the routes use several different bicycle road markings that encourage drivers to be aware of people on bikes and to help direct bicycle riders along routes that have low traffic volumes and speeds to make riding safer and more pleasant for everyone. There is further information about the different road markings below.
Status: March 2023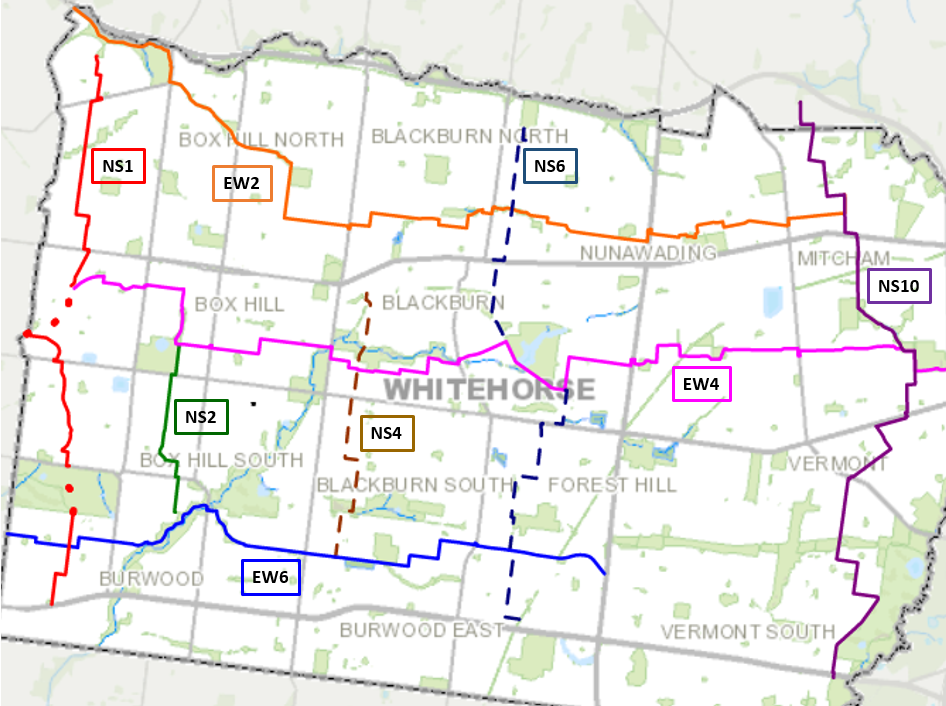 Construction of the Easy Ride Routes began in the May 2021. Five routes have been completed, including:
East-West 6 (EW6 - shown in blue)
East-West 2 (EW2 - shown in orange)
East-West 4 (EW4 - shown in magenta)
North-South 1 (NS1 - shown in red)
North-South 10 (NS10 - shown in Purple)
the southern half of North-South 2 (NS2 - shown in green)
Works in Progress include:
Path improvements through Surrey Park, Box Hill, beside Aqualink Box Hill
Two new Easy Ride Routes, NS4 (shown in brown) and NS6 (shown in dark blue)
These projects will be fully completed by June 2023.
What are the different markings?
There are a few of different types of bicycle symbols that make up the Easy Ride Routes. Learn more about them below.