Whitehorse City Council is transforming the former Nunawading Primary School site into a vibrant community hub; a place where people of all ages and backgrounds feel welcome and can come together to embrace new opportunities for learning, social interaction and getting active.
Council bought the Springvale Road site from the state government in mid-2015, with the intention of retaining the land for the continued enjoyment and benefit of the entire community.
Project architects Francis-Jones Morehen Thorp developed the hub design based on feedback received from community groups currently operating out of Silver Grove, Nunawading, which will move into the hub when it opens. Taking account of the entire Tunstall Park precinct, the design also reflects Council's strategic planning for the area in meeting the needs of the broader community well into the future.
Key features of the design include:
refurbished heritage school building
multi-functional classrooms and meeting rooms
specially-fitted out spaces for dance, art, counselling and lapidary activities
purpose-built Meals on Wheels facility
communal kitchen with teaching area
multipurpose sports stadium
target 5 Star Green Rating (incorporating solar, water reuse, natural light, low energy, natural and durable materials)
car parking areas for 200+ vehicles
integration with Tunstall Park – landscaping, enhancement of open green spaces, new pedestrian and cycling paths, and areas for passive recreation.
The project budget is set at $28 million and will be fully funded by Council over three financial years.
Construction Program
In September 2018, Council awarded the building contract to leading Melbourne-based commercial construction firm Ireland Brown Constructions. This company is at the forefront of the industry with many awards to its credit, including a Master Builders Association Special Commendation in Excellence in Construction of Commercial Buildings.
Construction is expected to take place from late 2018 to early 2020. Throughout this period, Ireland Brown Constructions will keep local residents and other property owners informed of any changes to pedestrian or traffic movements, and mitigate against any potential construction impacts such as noise and dust, in accordance with their Construction Management Plan.
Traffic and parking associated with the project will be planned, managed and monitored. VicRoads, as the road authority, has advised that vehicle entry/exit for the site will be via Springvale Road. On the occasions that large trucks need to deliver materials to the site, the contractor will provide traffic management to minimise any potential disruption to local traffic flow. 
Council will continue to keep stakeholders and the broader community informed of key milestones as the project progresses through updates to this web page.
Project Layout Plans
July 2019: Bird's eye view of site activity.
July 2019: Bird's eye view of site activity.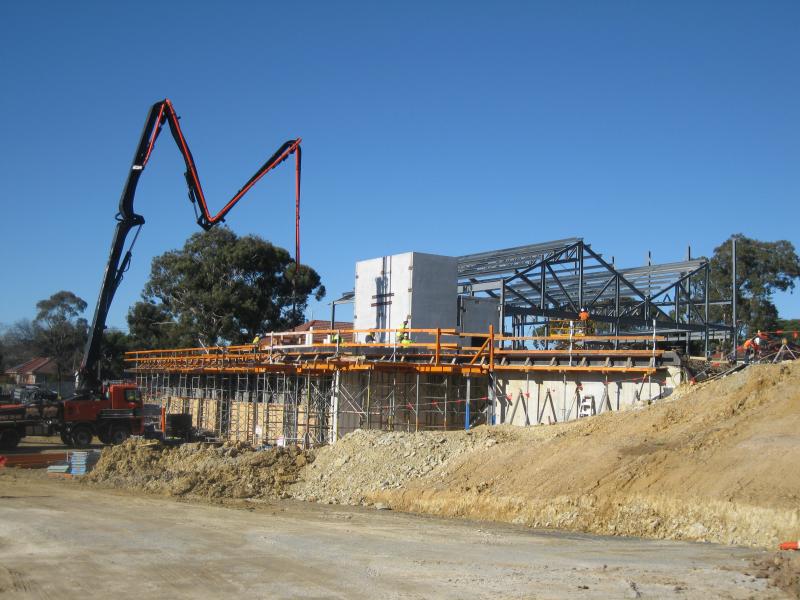 July 2019: Lower ground level progress with steel structure above.
July 2019: Internal view of steel structure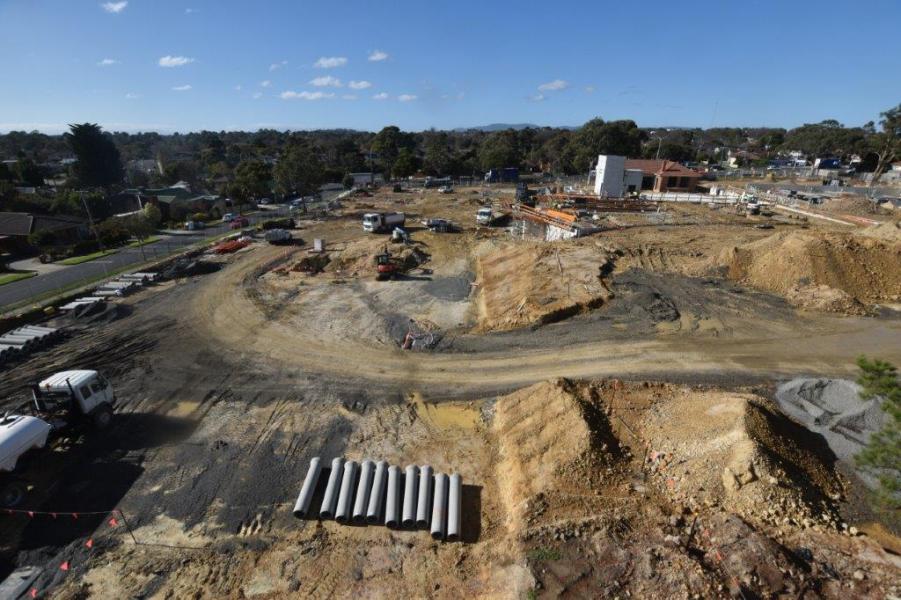 June 2019: Aerial view from Tunstall Park end.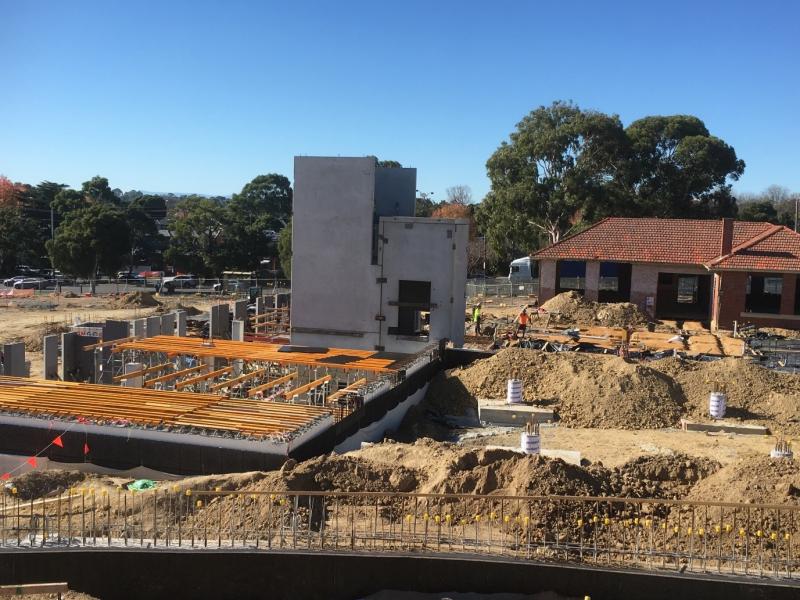 June 2019: Overlooking the main building footprint from the west, the concrete stairwell and lift tower can be easily seen from the street.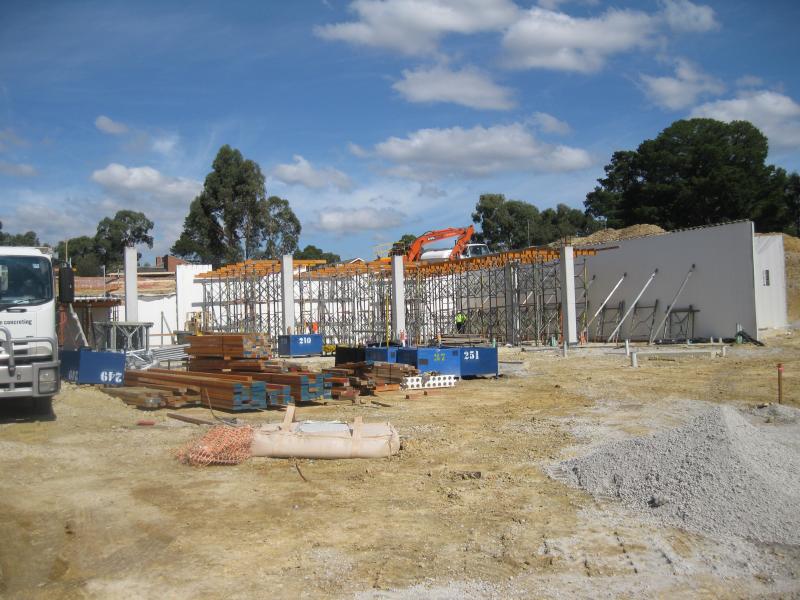 April 2019: A concrete retaining wall is being installed around the lower ground floor
April 2019: Heritage school building restoration works taking shape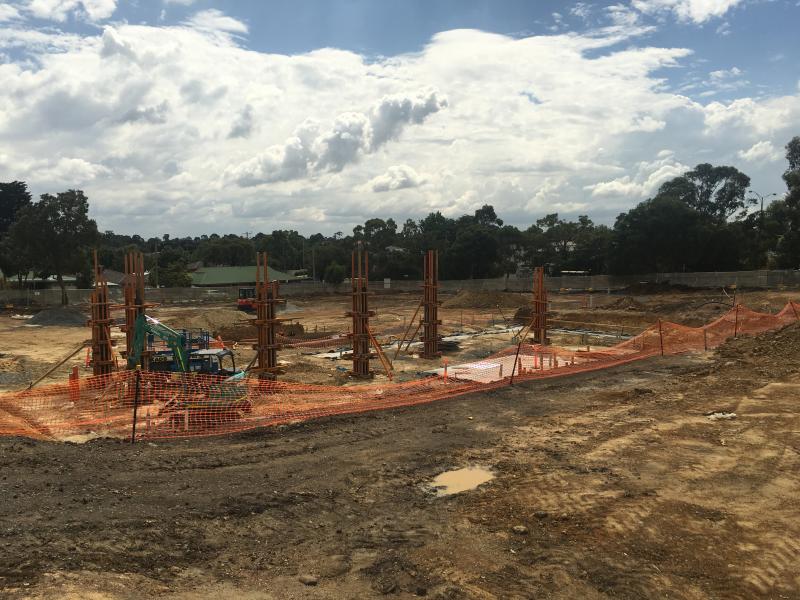 Feb 2019: The heritage building has been cleaned up ready for restoration, which will include strengthening of internal walls, installation of new windows and rectification of the façade.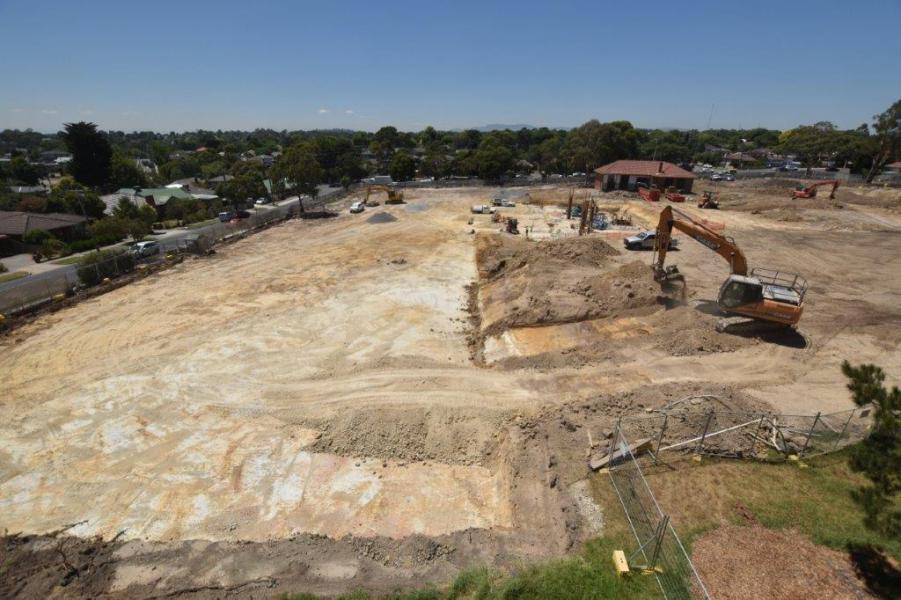 Jan 2019: Aerial view of site from Tunstall Park end, showing heritage building in the background.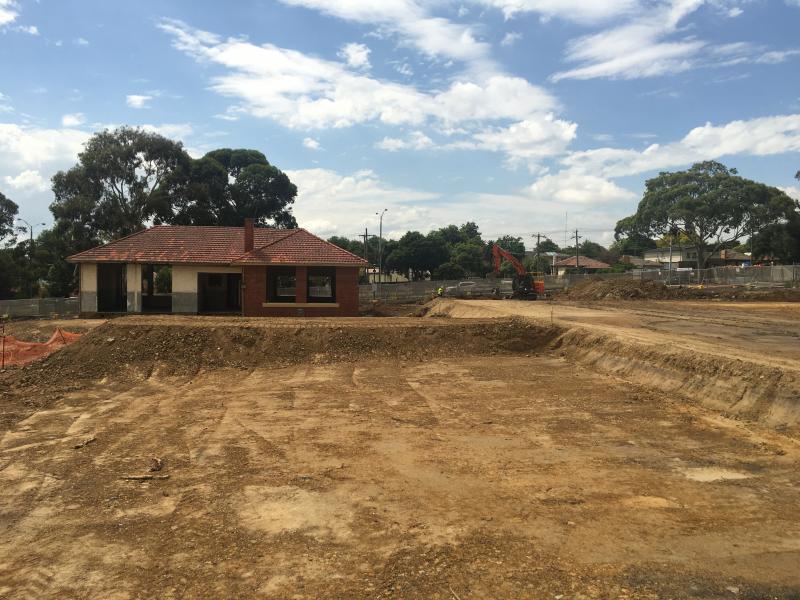 Dec 2018: Excavation of stadium and main reception.