Footpaths provide a wide variety of uses for different groups including shoppers, tourists, public transport users, delivery persons, elderly persons, those with mobility needs, pet owners, young families and children. Local businesses also use footpaths as footpath trading areas.
Footpath trading is defined as "temporary use of Council land" under the City of Whitehorse Community Local Law (2014) ( PDF 280.06KB) S4.14 for commercial activities which can include:
Sale of goods and products
Outdoor dining
Displaying signs and other items
NOTE: Real estate agent portable display signs used anywhere in the municipality to advertise open homes and auctions requires a separate permit application.
An annual permit is required from Council to use any Council-managed footpath, nature-strips or land for any trading activity. Permits are subject to conditions, primarily to ensure pedestrian access, community safety and amenity is not compromised.
NOTE: Box Hill Mall has a separate Footpath Trading Permit application form to the rest of the municipality and Carrington Road has separate footpath trading guidelines ( PDF 1.6MB) to the rest of the municipality.
Quick links
When planning their footpath trading requirements, applicants should refer to the following documents which outline the rules and conditions for placing goods on footpaths. They also explain permit zones and other restrictions related to footpaths:
In order to provide unobstructed access for pedestrians, the following zones have been created. 
Pedestrian zone
Trading activity zone
Kerbside zone
Exclusion zone. 
These zones are outlined in the diagrams below.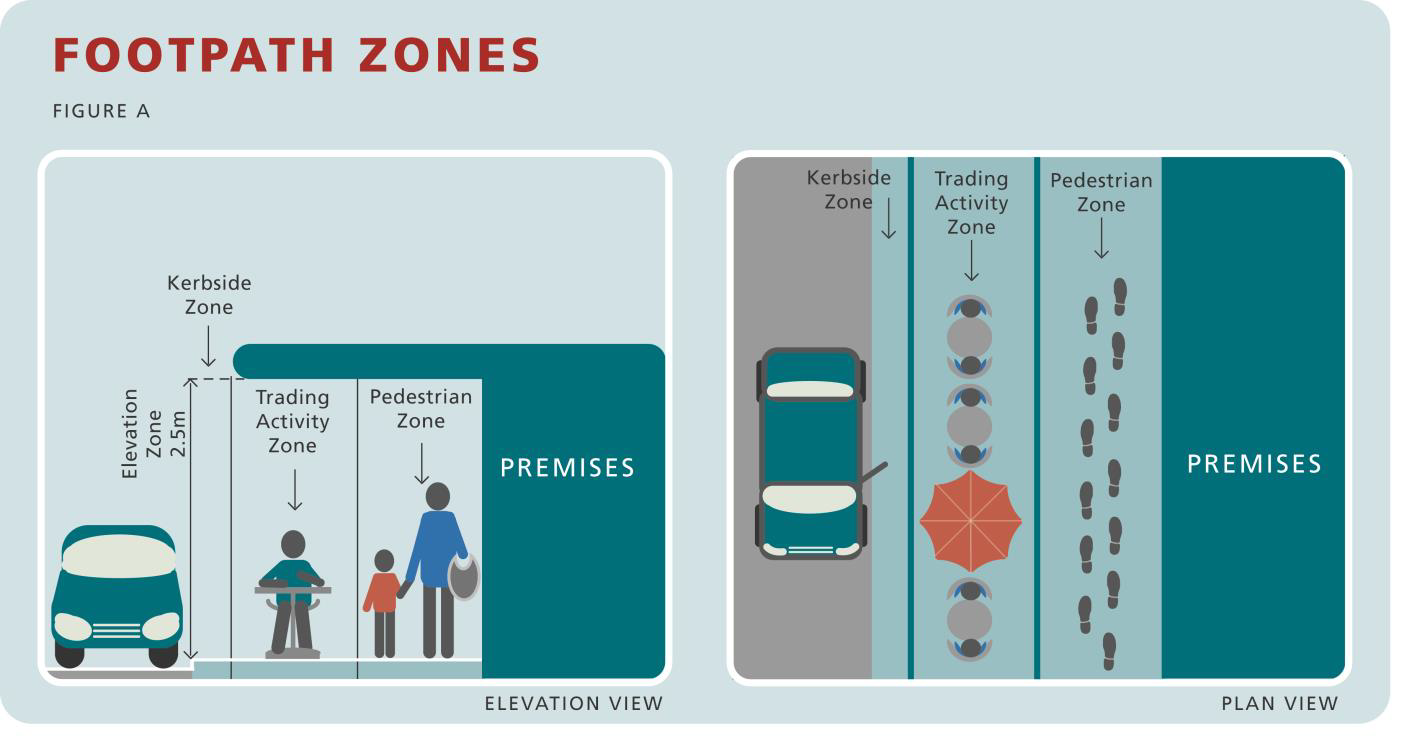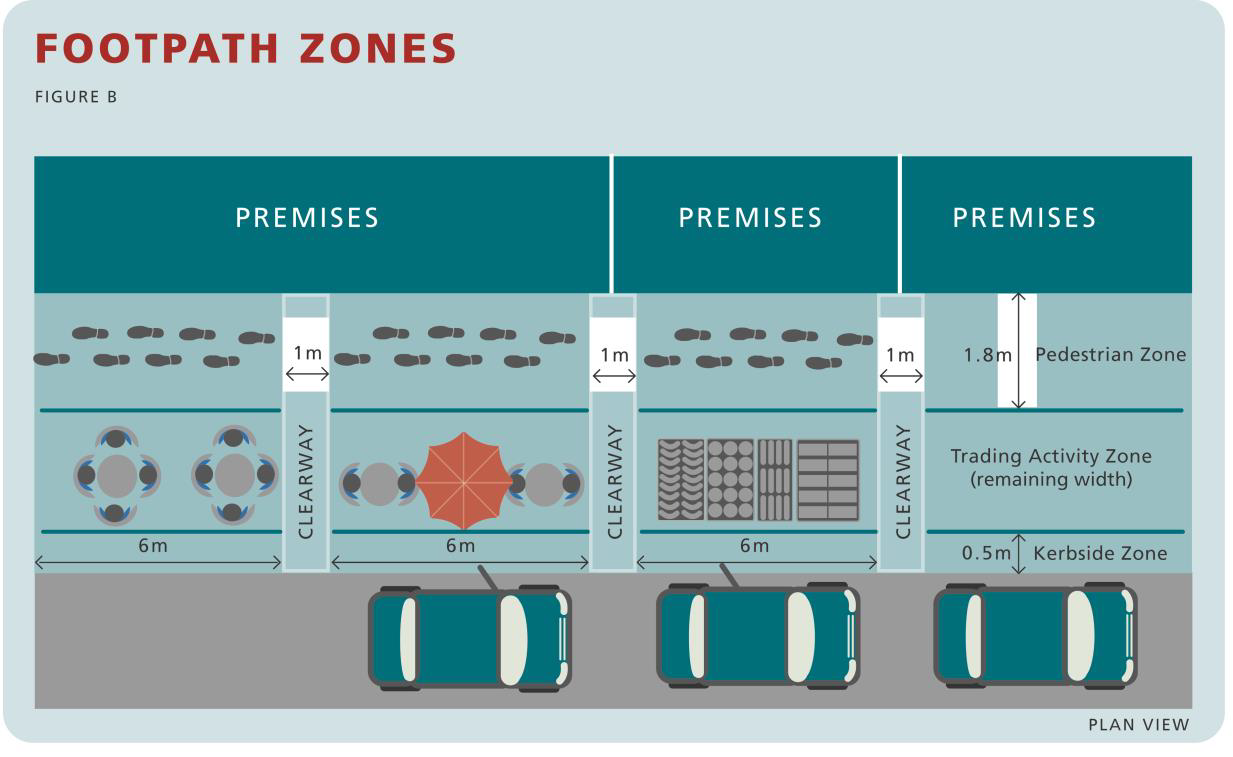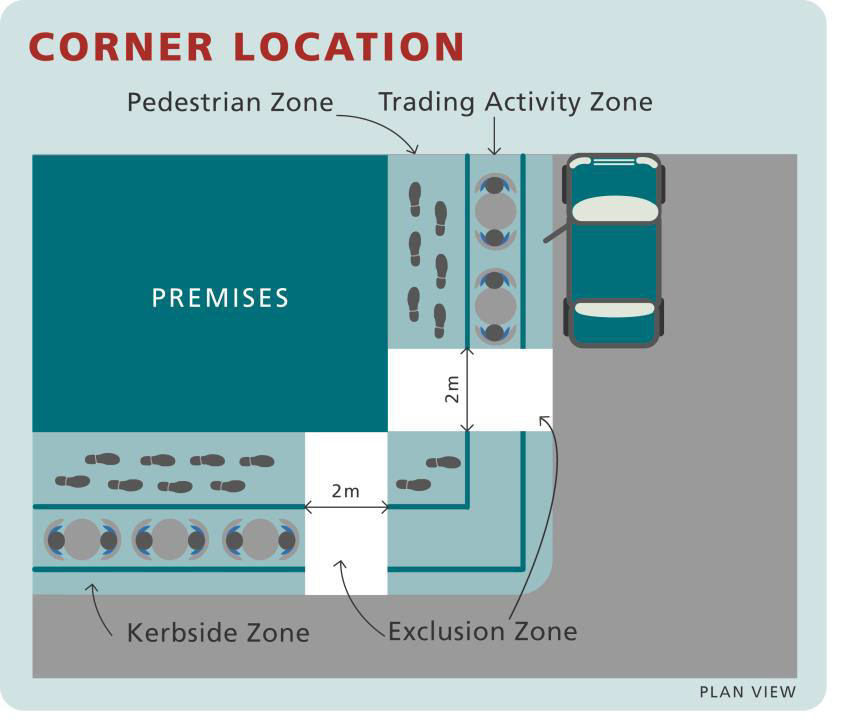 If you want to install in-ground furniture sockets you must also apply to undertake works in the road reserve. Download the following information and form if you want to install in-ground furniture sockets:
Permits are valid from September to August each year and must be renewed annually.
Footpath Trading Permit conditions (including Box Hill Mall)
All Areas Except Box Hill Mall (from 1 September 2022)
Selections available 
A/Board (one sign 1m high x 600mm wide)
Goods on Display
Tables, Chairs & Umbrella
Plants
Barriers
Other
Selection Costs
The fee payment is calculated on the number of selections above.
One selection $165.00
Two selections $292.00
Three selections $414.00
Four selections $530.00
Five selections $636.00
Box Hill Mall  (from 1 September 2022)
Selections available
Goods on Display
Tables, Chairs and Umbrellas
Barriers
Other
Costs
The fee payable is calculated on the number of total linear metres multiplied by cost per linear metre.
| | |
| --- | --- |
| Linear Metres | Fee Applicable |
| 1 | $584.00 |
| 1.5 | $876.50 |
| 2 | $1,168.00 |
| 2.5 | $1,460.00 |
| 3 | $1,752.00 |
| 3.5 | $2,044.00 |
| 4 | $2,336.00 |
| 4.5 | $2,628.00 |
| 5 | $2,920.00 |
| 5.5 | $3,212.00 |
| 6 | $3,504.00 |
| 6.5 | $3,796.00 |
| 7 | $4,088.00 |
| 7.5 | $4,380.00 |
| 8 | $4,672.00 |
You will need the following details to submit a new application:
A copy of your Public Liability Insurance Certificate of Currency (mandatory) for $10 million (available from your insurance company)
Site plan (mandatory). For online applications please submit a scanned copy of the site plan
Any images or supporting documentation for your application
Application fee (mandatory) 
Use the application links below or on the right hand side of this web page to lodge and application online.
Once you have submitted an application form, Council will arrange to inspect your premises to assess the permit application. After the assessment if your application is successful, a permit will be sent to you. If your application is unsuccessful, you will be notified in writing.
If you have an existing footpath trading permit, Council will send you a renewal notice in early September each year.
It is a mandatory requirement that you submit a current certificate of currency from your insurance company with $10 million liability as part of your renewal and pay the required fee.
Payment for the renewals can be made online. Please use the payment reference ID supplied.