Real Estate agencies temporarily displaying boards or signs to advertise activities such as 'for sale', 'open for inspection', 'auction' or 'for rent' on council land are required to obtain an annual permit. 
Council's Community Local Law (2014) S4.14 requires businesses to have a permit before placing an advertising board in public places including footpaths, nature strips, Council managed land or any other location likely to impact residents or visitors.
Quick Links for this Page
Permit Conditions and Breaches
The footpath trading guidelines below and Disability Discrimination Act (1992) outline the rules and conditions for placing signs on footpaths. They also explain permit zones and other restrictions related to footpaths.
In order to provide unobstructed access for pedestrians, the following zones have been created.
Pedestrian zone
Trading activity zone
Kerbside zone
Exclusion zone. 
These zones are outlined in the diagrams below.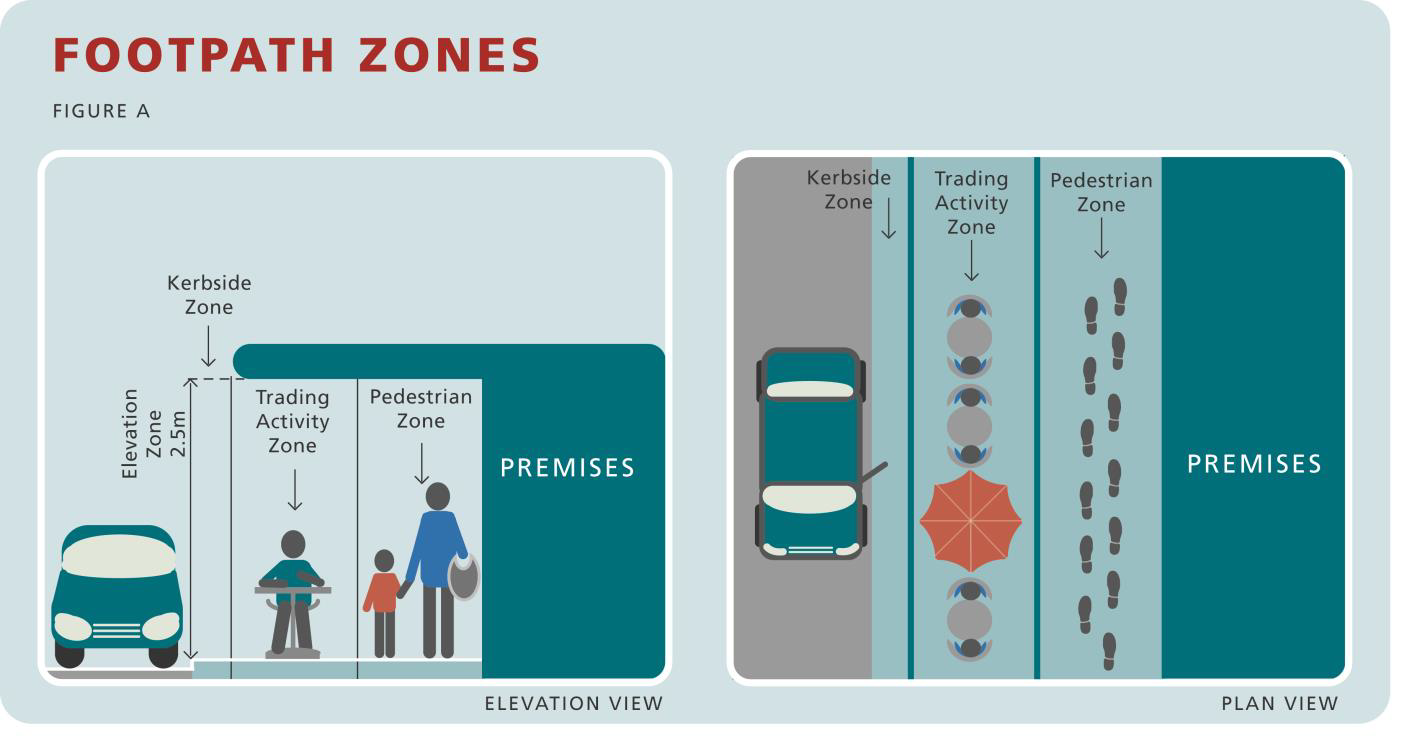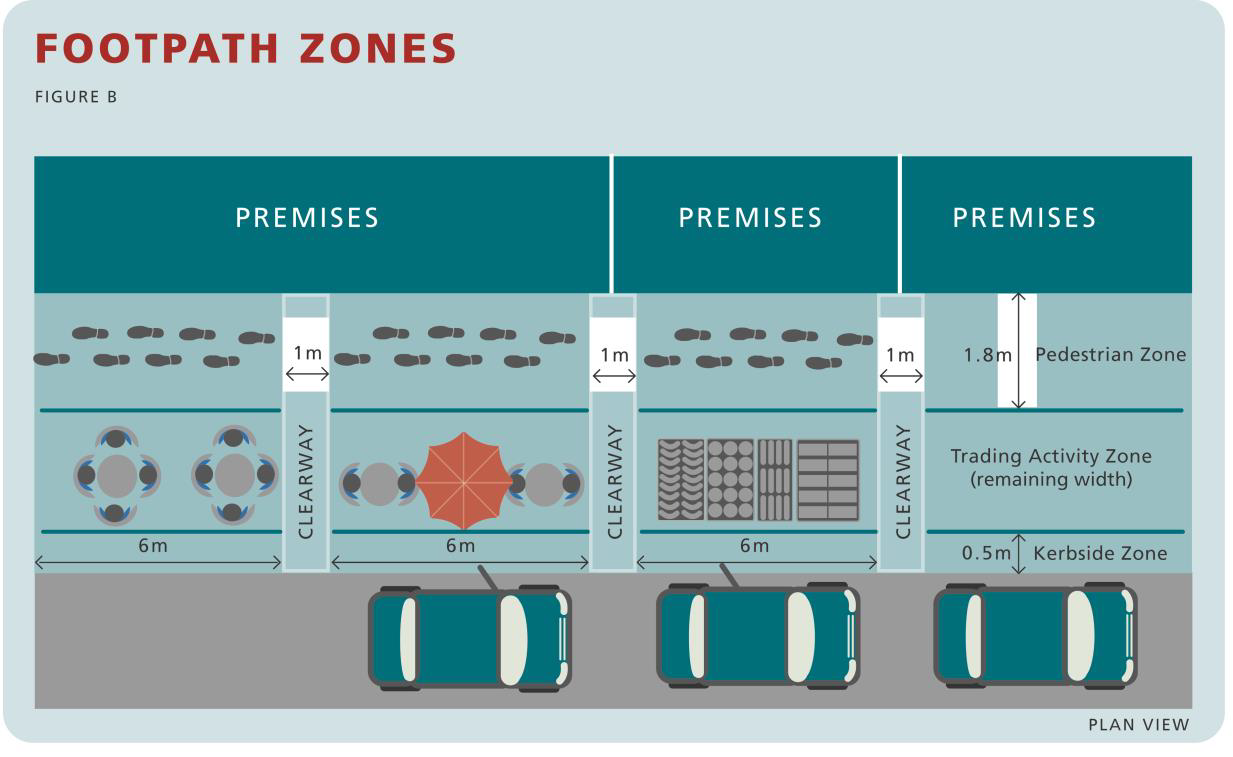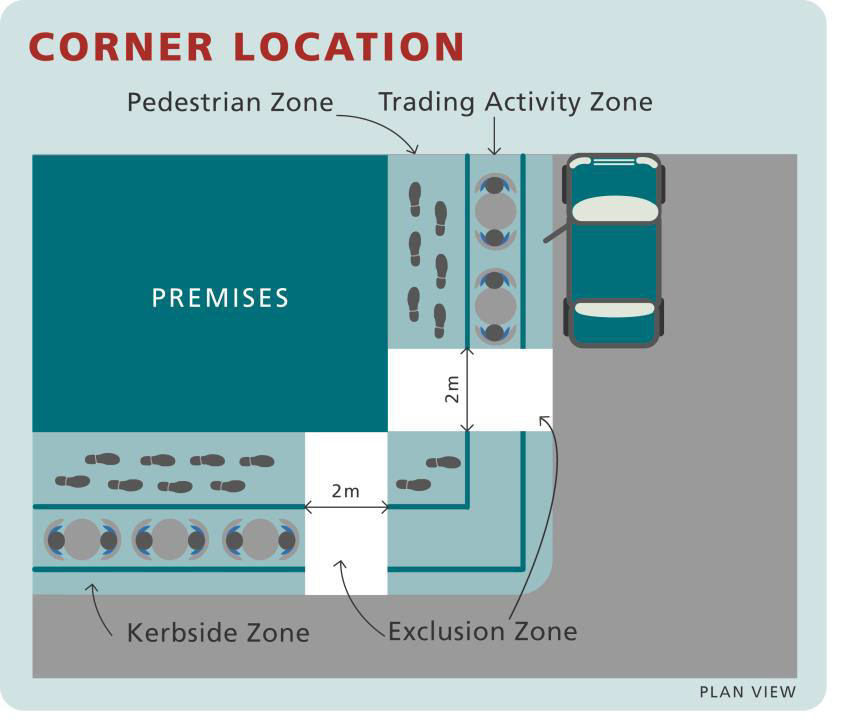 Permits are valid from September to August each year and must be renewed annually.
Fees (from 1 September 2022) $545
You will need the following details to submit a new application:
Public Liability Insurance certificate of currency (mandatory) for $10 million from your insurance company detailing coverage that extends to all items placed on footpath
Any images or supporting documentation for your application
Application fee (mandatory) 
Once you have submitted an application form, Council will arrange to inspect your premises to assess the permit application. After the assessment if your application is successful, a permit will be sent to you. If your application is unsuccessful, any fees paid will be refunded.
Apply Online
Renewing a Permit
If you have an existing permit, we will send you a renewal notice from early September each year. Payment is due by the end of September.
It is a mandatory requirement that you submit a current certificate of currency from your insurance company with $10 million liability as part of your renewal and pay the required fee.
Payment for the renewals can be made online. Please use the payment reference id supplied by Council.