The Think Local Buy Local message has been a consistent message for a number of years and never been more relevant. Your shopping decisions count!  
By Buying Local You: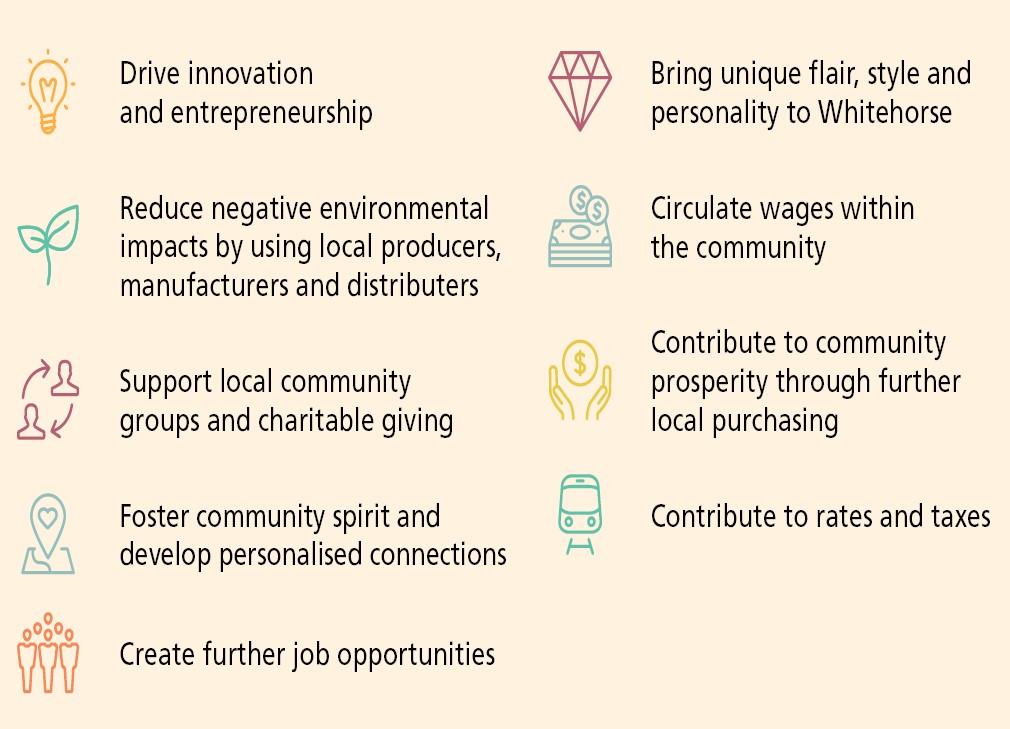 Whitehorse has everything you need!
Whitehorse has everything you need right at your doorstep whether you are shopping with your feet or online. It is time to revisit or discover what is in your own backyard.
Get to know your retail precincts
The most recent retail precinct audit has been conducted in December 2022. This audit revealed a renewed confidence in the business community with an overall decrease in vacancies.  The initial audit found that 9.76% of tenancies were vacant in June 2020 and 8.90% in December 2022. Future audits will help us monitor vacancies, identify trends and assist with strategic planning.
The changes in the top three business categories in the two years from June 2020 to December 2022 were:
Food and Beverage (café, casual dining, takeaway) was 23.90% in June 2020 whereas December 2022 was 24.14%
Personal Services (hair, beauty, massage) has increased from 11.95% in June 2020 to 11.97% in December 2022.
Grocery and Fresh Food (bakery, green grocer, convenience store/milk bar, supermarket,  bottle shop, butcher) was 9.05% in June 2020 and grew to 9.47% in December 2022. 
*excluding privately operating hard top centres (For example, Forest Hill Chase, Box Hill Central)  and precincts less than 5 properties.
We all know the benefits of buying locally, but have you ever wondered about what the real impact buying Australian Made has on the economy? We did and recent economic analysis revealed the following. 
If every resident in Whitehorse spends $100* at local businesses on Australian Made goods and services, it is estimated that 71 jobs will be supported across the Australian economy. Should these goods and services be sourced from businesses that are also Australia owned, this increases to an estimated 89 jobs. If the expenditure on Australian Made goods and services is directed at Australian owned business with strong local supply chains and a greater use of Australian inputs, an estimated 105 jobs will be supported.
* Focus is on consumption expenditure by households in Whitehorse. Typical reliance of imported goods and services for industries in Whitehorse. All analysis, data and commentary presented relies on data sourced from the Australia Bureau of Statistics (ABS).
Campaigns to Support Business
There are many campaigns that encourage Thinking Local and Buying Local, not only in Whitehorse but also Victoria.