We have all the world in our backyard: the rich cultural heritage of Whitehorse weaves a proud and colourful social fabric!
 
We're pleased to present you an equally colourful Harmony Day Concert, with an incredible line-up of performers that will make your heart sing and your body move.
 
Come and enjoy powerful First Nations singer and musician Mitch Tambo on stage, supported by high-energy, African Super Mande Percussion Group, and the mind-blowing Lion Dancers from Hung Gar Yau Shu.
 
'Everyone Belongs' at our free Harmony Day Concert and we want to see you there, celebrating our community and enjoying live music, workshops and activities, food trucks and dance performance.
 
Make a seed bomb, paint your part in the migratory-eel mural, watch (and taste!) some cooking demonstrations and witness the beautiful dancers from the Victoria Hua Xin Chinese Women's Association. You can also take a tour of Strathdon House itself.
 
We can't wait to see you in our shared backyard.
Date: Sunday 19 March 2023
Time: 2pm to 5pm
Where: Strathdon House and Orchard Precinct, 449-465 Springvale Road, Forest Hill
Admission: Free
Getting there: Hop on bus Route 902, which stops just out the front or ride your bike. There is parking available via Davy Lane. 
Accessible parking and toilets will be available on site
Getting There
We encourage you to walk, ride or take public transport to Strathdon House.
Parking and access via Davy Lane, or hop on bus Route 902, which stops just out the front.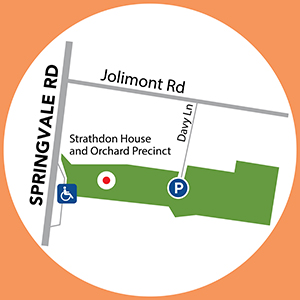 Find out more about how to get to Strathdon House
________________________
Food Vendor Applications
The 2022/23 Whitehorse Festival Season Food Vendor Applications have closed. To update your details and/or interest, or to be added to the mailing list for the 2023/24 season, please email arts@whitehorse.vic.gov.au